What kind of trends will we see popping up over the next few months and how will they influence our way of living?
Smaller but smarter
There is no doubt in the future we will all be living together in smaller spaces. On locations we can reach using public transportation. Urbanization is a theme that is getting more and more political support thanks to the work of Flemish master architect Leo Van Broeck. But a smaller way of living doesn't have to be a less luxurious one. A beautiful example is the Het Kanaal project by Axel Vervoordt, consisting of luxurious apartment blocks in the outskirts of Antwerp. The major asset of that project is not a huge amount of square meters for every individual, but a collection of joint services that Het Kanaal offers: a good bakery, a concierge service, dry cleaning, childcare, a doctor, a pharmacy and some wellness facilities. In short: the smaller we live, the more we will grow to appreciate good service.
Smaller living circumstances will obviously affect our furniture too. Modularity becomes indispensable. Indera has long been aware of this trend and invariably offers its sofas in different modules: both for the spacious mansion as for the smaller city apartment. A San Francisco start-up pushes the limits a bit more. At Bumblebee Spaces, the bed and its bedside tables are pulled up in the morning through a pulley system so that there is room to watch TV from the sofa.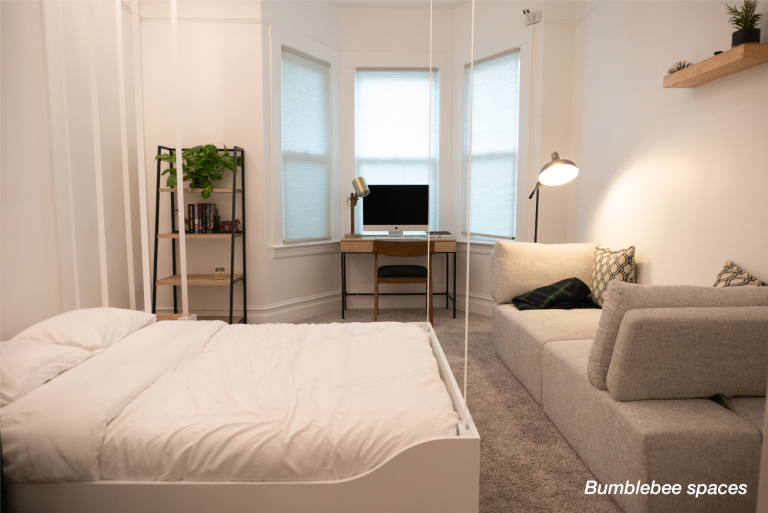 The quest for sustainablity
It will not come as a surprise that the miserable state of our climate will remain an important issue in the coming years. To answer that concern, the interior design business has developed a broad range of strategies. Some use waste products or materials that are fully biodegradable, others focus on the quality of their products that are made to last for at least 30 years. In other words, sustainability has many faces: from recycling via cradle-to-cradle to consuming less. In the future, design shoppers will ask more and more questions about the way in which all individual design producers contribute to a better climate. At Indera the answer to that question is very simple. With the Sintese Eco, they are the first Belgian label to succeed in producing a complete cradle-to-cradle sofa.
Artificial colours
Artificial Intelligence is gradually creeping into our daily lives. It will have a major impact on the world of design and architecture. Just imagine how you could wander around in apartments that have not even been built yet, how you could virtually design your living room before you even touch a paint brush or how investors could visit hotel rooms before the project is funded. In London and New York you can see the first 'white rooms' popping up. A white room is a room that is equipped with all the trimmings to escape to another world through Virtual Reality. In this room you can sit on the Copacabana beach after a busy day at work. You can check out a new car there or pretend you're in a disco. The consequence of such a virtual world is that a virtual furniture industry will emerge, similar to the virtual economy of the gaming industry. Virtual furniture is the kind you can only buy in your imagination. A sofa that adorns your virtual living room without it actually being in the real version.
Psychologists are dreading the rise of virtual reality. Those kinds of escape routes often look much more beautiful and colourful than the real world. For the interior design sector this means that people will become more and more used to bright colours and that this may also influence their daily choices. Colour will therefore become even more important in the future. Good news for colorful designers such as Laura Bethan Wood, Yinka Ilori and Nipa Doshi.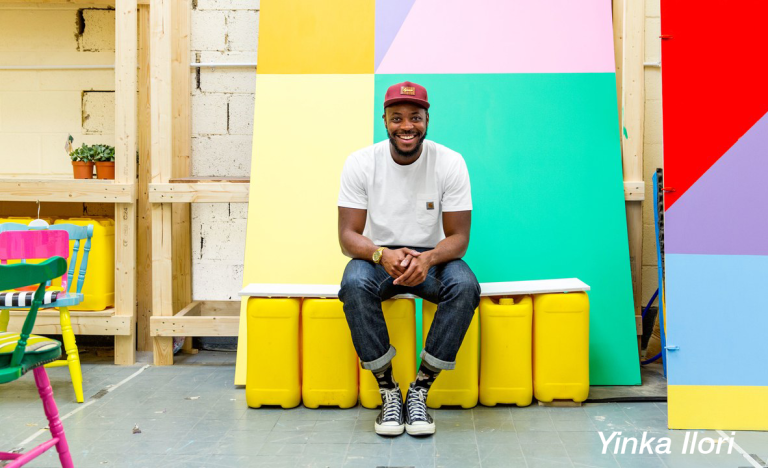 Breathe!
We are not only concerned about the future of our climate, but there is something else at stake as well: our own health. Studies on air quality make us gasp, both literally and figuratively. That lack of clean air (indoor and outdoor) will influence the design market. Paints and textiles that purify the air are big business and we are also facing a number of revolutions regarding filter technology. An important player in that niche is the Danish-British start-up AirLabs. AirLabs develops gas filters for homes and cars. Stella McCartney worked with them for her brand new London boutique. Thanks to Airlabs, McCartney can now attract customers with 'the cleanest air in London'. In short: clean air is becoming a unique selling proposition, a luxury product.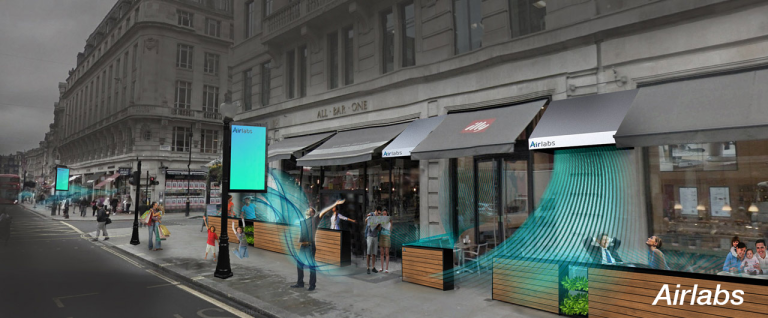 Is the future ugly?
Why do all coffee bars around the world look alike? The answer is very straight forward: thanks to visual media such as Pinterest and Instagram, interior styles are spreading rapidly. That high pace makes it increasingly difficult for designers and producers to stand out in the crowd. It is a lamentation that is regularly heard at trade shows: "everyone does the same thing, in the same style". A similar phenomenon is happening in the fashion world. Seamless silhouettes, perfect models and beautifully elegant outfits can no longer attract attention on visual media. So what happened? The ugly trend arose: Everybody noticed the so-called 'ugly' sneakers. It became a true hype. The same evolution awaits us in the interior world. Kitsch will experience a huge revival in the future, if only because it works on Instagram.